Doctors & Staff
Meet the experienced and friendly doctors and staff who make Dr. Yoos Eye Care & Optical the leading provider of vision care products and services in Bella Vista.
---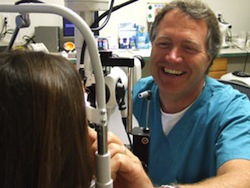 William L. Yoos, OD, FIAO
Dr. Yoos grew up on a large family farm and ranch in southwestern Missouri. He graduated from Southern College of Optometry in May of 1992, and worked until March of 1993 with Eddie Bryant, an ophthalmologist in West Memphis, Arkansas. He previously taught high school for six years after graduating from the University of Missouri-Columbia with a BS in education. While working with Dr. Bryant, he began work on passing state boards and was licensed in Arkansas, Hawaii, Mississippi, Missouri, Texas, Tennessee and Virginia. However, he has chosen to practice here in Northwest Arkansas and is the owner and office manager of Dr. Yoos Eye Care & Optical.
In March of 1993, he opened a very successful practice in Bentonville, Arkansas, where he leased office space for five years. During this time, he completed schooling to become an optometric physician, which superseded his TPA certification and allowed him to apply for and receive his DEA license. This greatly helped widen the scope of his practice.
In December of 1998, he decided to move his practice to Bella Vista, Arkansas and leased office space with another optometrist. During this time, he began exploring the possibility of opening his own clinic. A lot was purchased, construction began, and on November 16 of 2000, the clinic began operation. It is an excellent facility with a great staff that has grown now to ten and a full service optical lab that is continuing to grow each year.
In 2000, Dr. Yoos began working in the clinical trials of a new procedure to reshape the cornea while one is asleep. This is called orthokeratology or Ortho-K for short in this country. Dr. Yoos performed this procedure on himself first and then on his wife with very successful results. Using a special medical contact lens that is custom designed for each patient, the cornea is remolded while the patient sleeps. No correction is then needed during the daytime. Ortho K is FDA approved for myopia control, which means it stops the progression of myopia, or near-sightedness. This is especially crucial for children. He and his wife as well as their two oldest daughters still use Ortho-K and love it. Dr. Yoos has successfully fitted many patients over the last thirteen years, and in 2005, he received a fellowship in orthokeratology; only a few doctors in the world hold this degree. Another new area is the fitting of scleral lenses for patients, which allows many people who were previously struggling with their vision to finally be able to have outstanding vision correction.
As an optometric physician, each year requires many hours of continuing education to stay on the cutting edge. 2014 was the year Dr. Yoos became nationally board certified by the American Board of Optometry, which gives him a Diplomat degree. The Arkansas State Board of Optometry successfully expanded the scope of practice for optometrists here in Arkansas; Dr. Yoos now also has his license for advanced procedures, which includes using a laser for YAGS and SLT's along with minor surgical procedures done without anesthesia.
Dr. Yoos truly enjoys visiting with all his patients, and works extremely hard in making sure to take care of all of his patients' eye health needs. He is an avid gardener, loves working with his cattle, enjoys the lake, hunting and fishing, and has a first degree black belt in Taekwondo.
---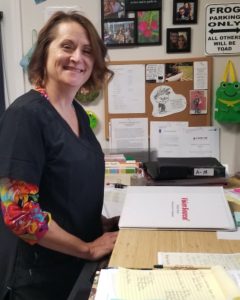 Rose Yoos
Rose files insurance and does bookkeeping for the clinic. She and Dr. Yoos have three daughters and have been a hard working team for over forty years. They feel very blessed to have the best staff in the world working with them! Rose grew up on a family farm in southwest Missouri and taught elementary school in Missouri and Tennessee for twelve years before moving to Arkansas.
She loves Northwest Arkansas as it is a beautiful place to live and work. Rose loves her family and friends, is into frog mania, is a Trekkie and Star Wars fan, loves all animals (especially cats!), would rather be working outside than in, is a water bug on Beaver Lake with her family, and loved taking Taekwondo in Centerton, Arkansas. She has her second degree black belt along with the youngest daughter Kayla; Dr. Yoos and the middle daughter Katrina have their first degree black belts. The oldest daughter, Erika, who worked for several years at the clinic, is now living back in the area. She is engaged and works as a cosmetologist, lash extension specialist, yoga instructor, and has an Etsy site for all her crafting. Katrina is married now to a wonderful young man, Zach. Kayla is also engaged and works at the clinic as an optometric technician.
---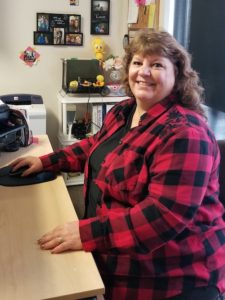 Sarah Pankau
Sarah started working for Dr. Yoos in February of 2009 in the insurance/billing department.
She grew up in Kansas City, Missouri and then moved to Pineville, Missouri in 1987.
She is happily married to Randy Pankau and together they have: three wonderful children, Dakota, Jason, and Kourtney; two terrific daughters-in-law, Lacey and Layla; and three amazing grandchildren, Aza, Ace, and Axell.
---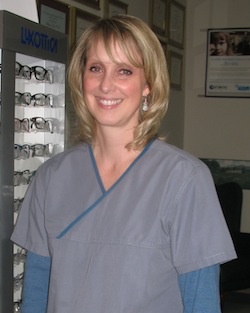 Jennifer vonBose
Jennifer vonBose began working with the Dr. Yoos team in 2007. She enjoys working with the patients in optical and helping with pretesting, retinal photos, and contact lenses. She files insurance as well.
She and her husband Charles Hummel live in Bella Vista and together they have six children and two grandchildren who are the light of their lives.
She enjoys talking with people, baking, crafts, reading, exercise, and is learning to know and crochet. But her favorite thing is snuggling with the grandkids and reading stories and playing.
---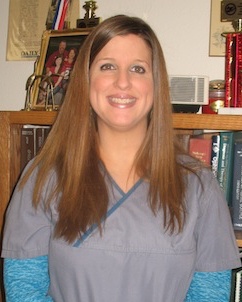 Mandy Haley
Mandy has been working as an optometric technician for Dr. Yoos since July of 2007. She assists Dr. Yoos in the exam rooms, does pretesting, and trains patients to wear and care for their contact lenses. She enjoys spending time with friends and family. She has been married to her husband Nathan since 1997 and they have a daughter named Katelyn. Mandy loves animals and traveling, going on cruises, and shopping are some of the favorite things to do to pass the times. She was born and raised in NW Arkansas all her life; not too many people can say that who live around here anymore!
---
Carl Cartwright
Carl started working for Dr. Yoos in March 2021. He is a native to the Northwest Arkansas area and has been a public servant for the past 14 years before moving to the corporate sector. With his passion for the public, Carl is committed to creating a professional environment and a satisfactory experience for Dr. Yoos patients.
Carl was an active member in the Bentonville Kiwanis group and helped lead the terrific kid program at Thomas Jefferson Elementary. He has worked and participated in organizational fundraisers throughout the NWA community.
He and his wife, Melissia, currently live in Gentry, AR, with their two beautiful girls AJ(13) and Shelbi(12), and their spunky black lab Euros (1)!
In his leisure time, Carl enjoys writing music and performing at various venues around the area. He is a devoted father watching his girls compete in soccer and various sports and supports his wife who has actively coached for the past four years in the local Gentry Youth Organization (GYO) program.
---
Ivy Howard
Ivy is the newest receptionist at Dr Yoos' office. She's originally from the Fort Smith area, but has called Northwest Arkansas home for close to 24 years. She graduated from Arkansas Tech University with a degree in Computer Science and spent her first 23 years in corporate America before deciding in a change of careers.
She and Chris, her husband of almost 24 years, live in Bella Vista with their 9 very spoiled kitties. Ivy is an avid reader and is an amateur oil painter and porcelain artist. She has been fortunate enough to travel to many countries and still has many more destinations she plans to visit. Her favorite pastime is spending quality time with her family.
---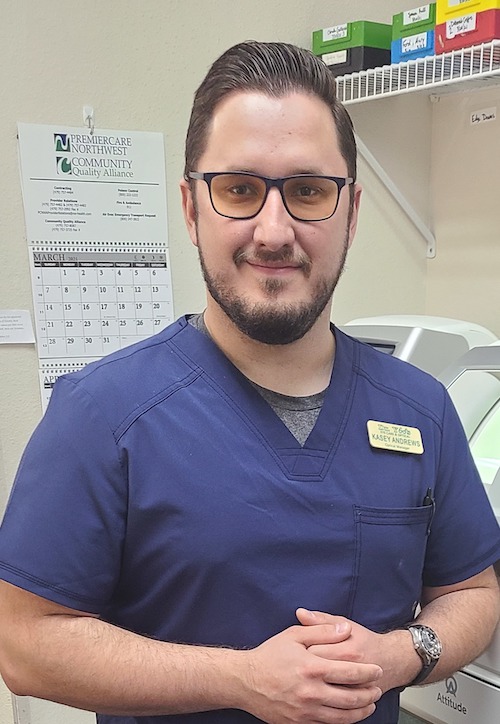 Kasey Andrews
Kasey is a grateful believer in Jesus Christ! He started this career because he has the desire to serve people as Christ serves the Church. Kasey enjoys the satisfaction that he works in an environment that allows him to improve another person's life. He has a wife and three beautiful children that are the light of his life. Kasey always seeks out the newest in technologies and builds on his arsenal of best practice knowledge. He strives to keep a positive outlook on everything and to make the patients here feel like they are part of his family. He hopes that one day he can serve you and enjoy your company here at Dr. Yoos Eye Care and Optical. From Kasey, have a very blessed day!!!
---
Kayla Yoos
Kayla is an optometric technician at the clinic, and helps with pretesting for retinal photos, OCT/GDX, and visual fields as well as managing the lanes. She is also cross trained in other areas as well. Kayla is a graduate of the University of Arkansas, where she earned a marketing management degree from the Sam M. Walton College of Business in the spring of 2018. She also has a background in apparel merchandising from the university. She enjoys kickboxing, kayaking, traveling, swimming, hiking, designing clothes and interiors, and music and singing. While in school at NWACC, she met her fiancee, Henry King. They both enjoy their zoo menagerie which includes many tanks of tropical/freshwater fish, two bearded dragons, a wild dog named Cooper, and a sassy cat, Tygra. Kayla is the youngest of Dr. Yoos's three daughters.
---